My Top 5 Easy Healthy Vegan Snacks
We may earn money or products from the companies mentioned in this post.
Since doing an intolerance test, as I was sick of trying to figure out what individual food was causing me tummy pain, I now avoid dairy and egg.  So to make it easier when looking for recipes or shopping, I would just go vegan which would make sure the food didn't have any dairy or egg.
When my friend got me 'The Plant Paradox' book as a present for Christmas a few years ago, I have also gone mostly lectin free as I found that resonated with me and made sense to avoid lectins.  Especially when I noticed eggplant would give me tummy pains after eating it and I thought that was weird as it's a vegetable.  It is also one of the highest in lectins, so I now avoid that.
It can be difficult to be healthy and go lectin free and vegan as there's so many pre-made foods and snacks with lectins.  So most of of the meals and snacks I have now are made at home.  When you're busy though, you need to find a way to do easy healthy vegan snacks that don't take much time.  So I listed below some of my go-to snacks that are easy and quick to prepare.  These are so far my top 5, but I may do another list later when I find more recipes.
1.  Gundry "Craving Fighting" Nut Mix
This is a easy healthy vegan snack that was recommended by Dr Gundry in his newsletter.  They're also lectin free, gluten free and very filling.
Can usually take about 5 – 10 minutes to make.  They are so filling and the smell will fill the kitchen and make everyone hungry.  This is how you make them:
Ingredients
Get 1 cup mixed nuts comprising of equal amounts of pistachios, walnuts and macadamia nuts.  I'm a fan of activated nuts so I usually get the activated ones from the health food shops or markets.
1 tablespoon extra virgin olive oil.  I prefer the organic one
1 tablespoon minced fresh rosemary.  I get this fresh from a garden down the road.  You can also grow your own or buy from markets.
2 cloves of garlic, minced.  I have sometimes cheated here too and used pre-made minced garlic, organic though.
Instructions:
Put half olive oil in a small pan, along with the garlic and rosemary
Heat over medium heat until garlic is golden brown and fragrant.  This is usually only a couple of minutes.
Turn off stove, take off the heat and add all the nuts and the remaining olive oil.  Mix around really well until combined.  Can eat straight away warm or wait until cooled.
After cooled, I store in a jar or container.  Olive oil can help keep fresh for a day or so, but if you're unsure, put into fridge.
2.  Healthy Vegan Muffin In A Mug
This is one of my favourite healthy vegan snacks and it's also gluten free and lectin free.  You can pretty much add any flavour you like to them.  They are really good just plain with coconut yoghurt though.  This recipe is also in The Plant Paradox Book in Phase 2 recipes.  I had to alter it a bit so that it would work better vegan.
They take 90 seconds to cook in the microwave and only about 5 minutes to prepare.  Again I always prefer organic, so the ingredients I use are usually all organic.
Ingredients:
1 tablespoon almond flour
1 tablespoon coconut flour
1 tablespoon flaxseed ground mixed with 2 tablespoons of water
1/2 – 3/4 teaspoon aluminum-free baking powder
pinch sea salt
2 teaspoons of Lakanto Monkfruit sweetener
3/4 tablespoon extra virgin coconut oil
3/4 tablespoon extra virgin olive oil (could also use macadamia oil)
Instructions: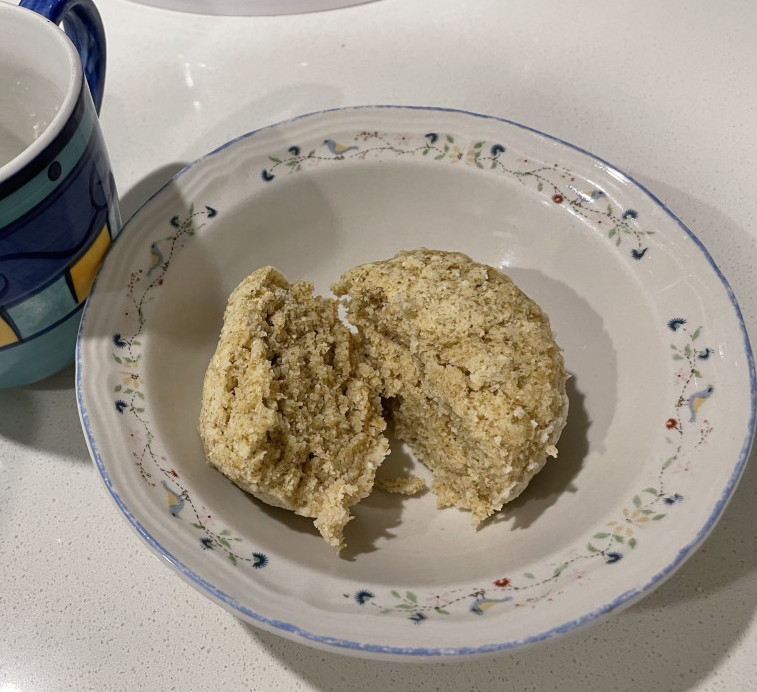 I always first do the vegan egg, which is the ground flaxseed mixed with the 2 tablespoons of water.  Put that into a large mug and mix with a fork until well combined.  Then let sit for a few minutes as the mixtures get like a egg consistency.
While I'm waiting for the flax egg, I put the 3/4 tablespoon of coconut oil into another smaller mug and put in the microwave to make sure it's melted.
Then add all other ingredients into the large mug with the flax egg and mix again with the fork until all well combined.  I then scrap around the edges of the mug to make sure all the batter is in the middle.  Then I use the fork to make a gap around the batter, so that the batter looks like a ball sitting in the mug and is all really close together.
Then put in the microwave on high for 90 seconds.
When microwave is done, I let it sit for a few minutes to cool.
You can probably eat it out of the mug, but I usually turn the mug upside down and empty it into a bowl.  Sometimes I just put organic coconut yoghurt on top.  Sometimes I add a bit of raw honey.  You could also add in season fruit on top with the yoghurt.
3.  Maple Tahini Cookies
I have already made a post about how to make these cookies.  The link to go to my full recipe is here:
4.  Popped Superfood Crisps
These are the healthiest on-the-go chips I can find anywhere.  Check out my full blog review:
5.  Green Smoothie
This is my favourite easy go-to green smoothie that fills me up fast.  You can read the full blog recipe here:
Easy Healthy Vegan Snacks
Thank you for going through my top options I recommend for easy healthy vegan snacks.  Feel free to leave a comment or a recommendation if you know of any easy healthy vegan snacks as well.  I would prefer recommendations to be lectin free as well.  This is because after you read the book "The Plant Paradox" by Dr Steven Gundry and agree with the explanation of why certain foods are causing issues in our gut which is then leading to other health problems, then you might prefer lectin free as well.  I found the book to make a lot of sense to me.
As I've had such a sensitive stomach, I've noticed since going lectin free that I don't have as much gas, have more energy and don't get cramps when I eat lectin free foods.