Gundry MD Energy Renew: Personal Review
We may earn money or products from the companies mentioned in this post.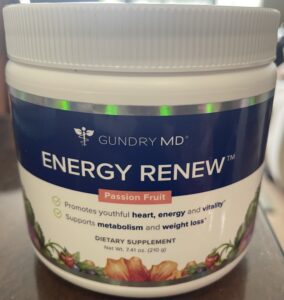 This is one of my favourite Gundry MD supplement drinks, especially as I'm always looking to ways to increase my energy in a healthy way.  I tried "Energy Renew" last year in 2021 and fell in love with it then and stocked up.
It has a great passionfruit flavour and keeps me energised all day, which is why I had to share this Gundry MD Energy Renew review.  I've since shared it with my friends and family who also love it and feel the difference in their energy levels.
What's In the Gundry MD Energy Renew?
Dr Gundry explains how he created the formula to include "the most powerful phytochemicals ever researched".  These include Acerola (improve mental energy & fight weight gain), Mangosteen (fights weight gain & supports healthy activation of AMPK, which is the 'youth enzyme' that controls aging) and Schisandra (shown in human studies to support enhanced physical stamina & mental clarity).  It's also noted by top researchers in fighting off age fighting free radicals.
The next main ingredient is "N-Acetyl L-Carnitine" which has been proven in studies to burn more fat as energy.  This is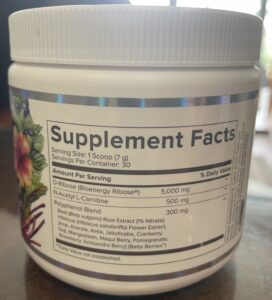 especially useful as we get older.  The ingredients are listed on the container and on the website.
You can check it out through my special discounted link here.
Energy Renew powder also has a good polyphenol blend of fruits and extracts.  As Dr Gundry says in his book "The Plant Paradox" where he constantly talks about polyphenols.  He says they are found to be powerful in giving us energy and boosting our mitochondria.  This is why it's important when we eat foods that are highest in polyphenols to help give us the energy we need through the day. Or have it in one simple energy drink powder.
Why I Love the Gundry MD Energy Renew
I usually have my Energy Renew in the mornings and find it's so energising, that I don't need coffee.  Sometimes I'll have a coffee anyway as I love the flavour of the coffee we have.  Or sometimes I'll have my coffee in the morning and leave the Energy Renew until the afternoon when I start to feel a bit sluggish.  Then it keeps me going into the night.
Having had Chronic Fatigue Syndrome, it's so great to finally have good energy again regularly.  My husband loves this drink too and keeps a container of it at his work so he can have it when he needs the energy.
For Gundry MD coupon code and discounts, click this link and you will automatically see the discounted prices.