Quick Easy Green Smoothie Recipe
We may earn money or products from the companies mentioned in this post.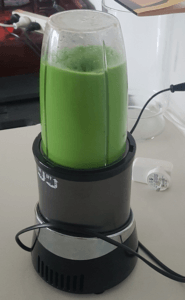 If you're looking for a simple, quick, easy green smoothie recipe, then I can highly recommend this one.  I found it in the book "The Plant Paradox" and it's included in Phase 1 recipes in the book and called the "Green Smoothie".
It's noted as an important part of the three day cleanse, which is the first part to correcting your gut.  This first part is the first phase of going lectin free and giving your gut bacteria time to heal and increase in good bacteria.
This is such a quick easy green smoothie recipe to make that I wanted to share it.  I first made it to try it and both my husband and I love it.
Ingredients:
So as the recipe on page 315 suggests:
1 cup chopped romaine lettuce
1/2 cup baby spinach,
1 mint spring (but we use a few),
1/2 avocado,
4 tablespoons freshly squeezed lemon juice (but we just use a whole lemon squeezed),
1/4 cup ice cubes (we just grab a handful)
1 cup filtered water
Few drops of stevia liquid (optional and I find it's not needed)
Just put all those ingredients in a blender and blend for a few minutes until it all looks well combined.  We love it without adding the stevia, so feel free to try that first.  I love the taste of lemon and mint together, so we add a bit more mint if we think it needs more flavour.  I also have mint growing in a pot on the balcony so it's easy to grab more if I need it.
If you find that the recipe above is not quite filling enough for you, there is the option of adding 1/4 cup of hemp hearts or pure hemp protein powder.  Just blend at in as well.  This was noted as his Hemp Green Protein Smoothie which is included in his book "The Energy Paradox".
This is a great start to the day to have this drink.  I'm still doing intermittent fasting as much as I can, or hold off eating as long as I can in the morning.  So I usually have this drink around 11am and I find it fills me up for a good few hours.  My husband eats more than me though, so he'll have this, but then wants something more like in about an hour afterwards.
I also find the less I eat in the morning, the more energy I have.  So I find I still have great energy after I have this Dr Gundry green smoothie and it really fills me up.  You can also find the recipe in his book "The Plant Paradox" towards the back of the book as part of his Phase 1.